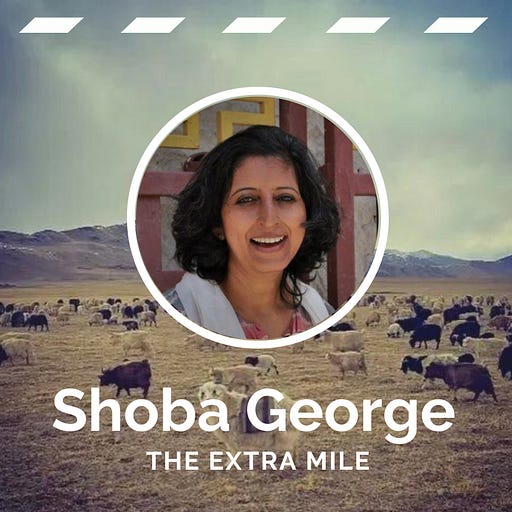 May 4 • 36M
Shoba George: The Extra Mile
A new dawn of travel is among us.! Put down the selfie stick and get ready to experience travel in a more meaningful and impactful way. The Postcard Travel show invites you inside the world of mindful travel. In this podcast, award-winning producer and host Elizabeth Drolet, speaks to some of the most extraordinary mindful travel designers and industry professionals from around the globe; from the wilderness of Botswana to the beyuls of Nepal, listen to stories from the men and women who facilitate experiences of powerful self growth and sustainable tourism.    Adventure is calling with the Postcard Travel Show! New episodes out every other thursday. Follow the podcast to stay updated! This podcast is brought to you by The Postcard Travel Club in association with Rhea Bhambhani and Bingepods. Head to the postcard.travel website for more!
Shoba George is the founding director of The Extra Mile, a responsible travel company. Shoba's passion for mindful travel is contagious, and she pours it into every aspect of her company's ethos of "turning time into moments." . In this episode, Shoba takes us on an immersive journey into Ladakh, India. She tells host Elizabeth about little-known stories from The Pashmina Trail, the indigenous communities, and traditional Ladakhi gastronomy. This episode will leave you yearning for more as you discover the heart and soul of Ladakh. 
New episodes out every other Thursday. Follow the podcast to stay updated!
Find more stories from The Pashmina Trail at