Discover more from POSTCARD DIGEST
Discover travel inspiration from boutique hotels and tours that offer immersive experiences, and advance responsible tourism.
Over 2,000 subscribers
Experience the Beachfront and Rainforest Magic at Arenas Del Mar Resort
📍Costa Rica
"There are a lot of places in Costa Rica where you can still have a whole beach to yourself."
 (Karla Souza, Mexican Actress)
Upon arrival at the Arenas Del Mar Resort, you'll be inspired by the remarkable natural diversity of Costa Rica. It's the only luxury hotel in Manuel Antonio right on the beach. The landscapes around range from lush rainforests cascading down misty mountains to pristine beaches meeting the Pacific and Caribbean.
At the resort, your days will be enriched by the charm of two unspoiled beaches, Playitas Beach and Espadilla Beach, and the nearby route to Manuel Antonio town and Manuel Antonio National Park. You'll be at a place where the wonders of nature and the comforts of a luxury resort come together to offer you an unforgettable experience.
Beauty envelops every corner of this place. Let's see what views your room offers.
---
Absorb the Best Views of Manuel Antonio from Your Room
If you're in search of a laid-back beachfront escape where genuine care is at the heart of hospitality, you've come to the right place. Arenas Del Mar Resort offers 37 luxury suites and guest rooms, each with captivating views that extend over Manuel Antonio National Park, the vast Pacific Ocean, and the lush rainforest. 
The views from your window open up to an expansive canvas of the boundless ocean meeting sandy shores — a true marvel of nature. Enjoy breathtaking views of Manuel Antonio National Park and the Pacific Ocean as you witness the sun's gentle descent from the spacious luxury of your Ocean View Premium Suite.
Similarly, the Ocean Breeze Suites offer the best views of both the rainforest and the ocean. You might even spot a monkey or two! You can even stay in a Playitas Suite, Rainforest Room or Ocean Breeze Superior Room — you have many options.
Once you've had a chance to relax and take in the views from your room, it's time to make your way to the restaurants and savour some authentic Costa Rican cuisine.
---
Peek into the Virtual Gallery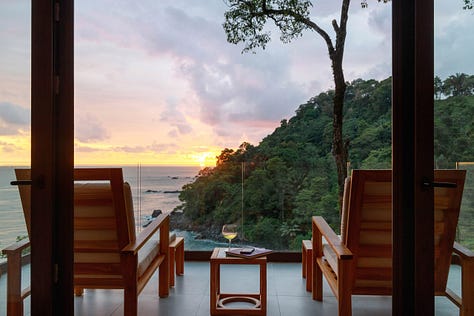 ---
Enjoy Delectable Costa Rican Cuisine 'Literally' on the Beach
Every choice of food at Arenas Del Mar is rooted in the commitment to sustainability and deep respect for the environment. Ingredients are sourced right from the private shores, freshly caught from the sea and lovingly nurtured by local farms.
At Mirador Oceanview Restaurant, you can relish exotic dishes while enjoying breathtaking views of the national park. Start your day with a cup of Costa Rican coffee, paired with fresh organic fruit and warm pastries.
As the sun sets, the restaurant comes alive with music, a special Guest Chef menu and locally-inspired gourmet fare, thoughtfully paired with organic South American wines. Enjoying your meal at the Playitas Restaurant, you'll find the rich flavours of the rainforest blending seamlessly with the freshness of the ocean, creating a delightful harmony on your plate. 
Arenas Del Mar proudly holds the distinction of being the inaugural luxury resort outside the United States to collaborate with the Dock to Dish Program. This initiative not only helps safeguard at-risk species but also plays a pivotal role in bolstering the local fishing economies.
After enjoying your sumptuous meal and getting inspired by the food philosophy of Arenas Del Mar, it's time to head out for some exhilarating adventures. 
---
Welcome to Costa Rica's Adventure Capital
At Arenas Del Mar, the spirit of adventure is all around you. Whether it's leaping from a stunning waterfall, gliding through the treetops, or embarking on wildlife expeditions, you'll be safely guided toward your ideal adventure. With a wide range of exciting tours, every day in this place is an opportunity for adventure.
Set out on a rainforest hike that leads you to the magnificent Nauyaca Waterfalls, among the most awe-inspiring natural marvels of Costa Rica. These spectacular falls comprise two impressive tiers, with the first plunging an astonishing 45 meters in a breathtaking free fall, followed by a second-tiered cascade, standing tall at 20 meters. 
Experience the thrill in the rainforest on a zipline adventure. Traverse through the valleys, catch glimpses of scenic waterfalls and revel in breathtaking views as you go. If you're bold and brave, then this adventure tour is right for you! Check out the sample Tour Book of the resort.
Before walking back to your room, head into the trees and explore the tropical ecosystem around you.
---
Discover the Tropical Ecosystem Bursting with Life
In Manuel Antonio, there are numerous opportunities throughout the day to connect with the rainforest and its abundant wildlife. Simply grab a pair of binoculars and join the knowledgeable naturalist guides as they lead you through the tropical ecosystem. Along the way, you'll come across familiar faces like monkeys, sloths, toucans and macaws, all part of the vibrant community in these forests.
For those seeking a more adventurous experience, you can also venture off the well-trodden path to explore the region's pristine rainforests, including Carara and Marino Ballena National Parks and the Barú National Wildlife Refuge.
In fact, if you're an early riser who loves bird-watching or prefers nature hikes after dark, there's a wide array of engaging experiences to choose from.
Come and experience what your Costa Rican vacation could look like at Arenas Del Mar. Rest assured, you'll be in good hands.
---
Discover Inspiring Virtual Adventures with Arenas Del Mar
---
Add ARENAS DEL MAR RESORT to your PERSONAL WISH LIST on Postcard Travel 🔗
Follow Arenas Del Mar and receive updates on new stories published, special offers, free giveaways, and more.
---
Find more inspiration from ARENAS DEL MAR on their website🔗
---
The Postcard Travel Club connects mindful luxury travellers with boutique hotels, tours and retreats who offer immersive experiences, and advance responsible tourism.
2000+ luxury travellers
27 countries
50+ new members added weekly