Discover more from POSTCARD DIGEST
Discover travel inspiration from boutique hotels and tours that offer immersive experiences, and advance responsible tourism.
Over 2,000 subscribers
Adventure is calling! Do you dare to answer?
📣 🎉 Announcing the launch of our podcast, The Postcard Travel Show. Listen & Learn from impact entrepreneurs that are shaping the future of travel.
A new dawn of travel is among us.! Put down the selfie stick and get ready to experience travel in a more meaningful and impactful way.  The Postcard Travel Show invites you inside the world of mindful travel. In this podcast, award-winning producer and host Elizabeth Drolet, speaks to some of the most extraordinary mindful travel designers and industry professionals from around the globe; from the wilderness of Botswana to the beyuls of Nepal, listen to stories from the men and women who facilitate experiences of powerful self growth and sustainable tourism.  
Adventure is calling with the Postcard Travel Show! New episodes out every other Thursday. Follow the podcast to stay updated!
Starting soon, we will be dropping episodes featuring personal stories of Shoba Jose George, Raj Gyawali, Raj Joshi, Rob Barber - Botswana Safari Expert and other inspiring entrepreneurs.
---
Listen to the trailer and subscribe on your favourite podcast channel:
Spotify:
Apple Podcasts:
Also available on Google Podcasts and Amazon
---
Upcoming episodes:
Shoba Jose George - The Extra Mile
Shoba spent her formative years in Kerala in the south of India, and even then believes that she hasn't seen enough of her home state. Every time she is back in Kerala, she slips away from family and friends for a little time to explore something new. Her most recent discover has been  the forest food of the Malayar an indigenous community form the forest here. 
Graduating in Fine Arts, Shoba worked in the textile industry till she decided to venture out to set up own boutique travel advisory, The Extra Mile. Coming from a family that is already well established in the hospitality space in India, the nuances around organising travel and hospitality experiences came naturally to her. As a travel designer Shoba is truly inspired by stories. Holding on to the threads of the story - of a destination, community or experience she deep dives into it to curate a life-time of a journey that is also best suited to the interest of her clients. The Pashmina Trail has been designed to connect the traveler to the land, people and culture, to weave their own personal life story. Shoba believes this is the best time to travel better – low impact on the environment and high impact on the local economy.
Learn more…
http://www.theextramile.co.in/
---
Raj Gyawali - Social Tours
Raj has over two decades of experience working specifically on responsible tourism in practice – on the ground developing his company Social Tours as the first tour company in Asia to be sustainability certified. As a consultant he helps governments and communities develop more sustainable practices, and inserts sustainability strategies in government plans. Raj's work ranges from training guides in more sustainable practices, to educating customers on the practice of responsibility in tourism as travellers, developing more sustainable tourism offerings, as well as guiding governments and stakeholders in putting sustainable procedures into action.
Learn more…
---
Dr. Raj Joshi - The Adventure Boutique
Raj has operated in some of the most inhospitable places imaginable – in both a civilian and military capacity – from mountain, desert, polar and jungle environments, right through to warzones.
He uses his consummate experience in remote and hostile regions to help others achieve; safely guiding and inspiring those under his charge to fulfil their dreams and ambitions.
Raj is one of a select few individuals that has successfully climbed, unguided, the highest mountain on every continent in the world.
Due to his ongoing success in the field, Raj was the Expedition Leader for David Beckham and three of his friends through the Amazon Jungle. He helped successfully guide them, the BBC film crew and the production team safely through this challenging environment, reaching their end goal of visiting the secretive and normally forbidden Yanomami tribe; a special privilege and rare insight into the way of life of this remarkable tribe.
Raj's aim is to provide people from all walks of life with unique, unparalleled adventures. The skills Raj has gained– either through expedition or military experiences – has provided him with the expertise to offer a variety of trips to suit all abilities.
Learn more…
https://www.theadventureboutique.org/
---
Rob Barber - Golden Africa Safaris
Rob was born in the southern highlands of Tanzania and was introduced to the bush at a young age. His first stomping grounds were in Ruaha National Park, Tanzania, where the family would regularly go camping. After finishing school, Rob went on to work in Ruaha guiding for a season at a lodge with family friends. This is where he knew that a life of guiding and working in the bush was unquestionably the one for him.
Rob left Ruaha to study in Bristol, UK and graduated with a BA (Hons) but the bush was always calling. Before leaving the UK for good and returning to his roots, Rob was elected as a Fellow of the Royal Geographical Society (FRGS). He came to Botswana and was immediately taken by the incredible wilderness and diversity of the country and soon realised that this was to be his new home.
He went on to start up Golden Africa, and today, as Director of the company and a fully licensed professional guide of Botswana, he continues to work throughout the country, in the Okavango, Chobe and Kalahari, designing, planning and leading safaris for many clients who keep coming back for more.
Learn more…
---
Share this post:
If you know anyone who may like this, please share this post with them.
---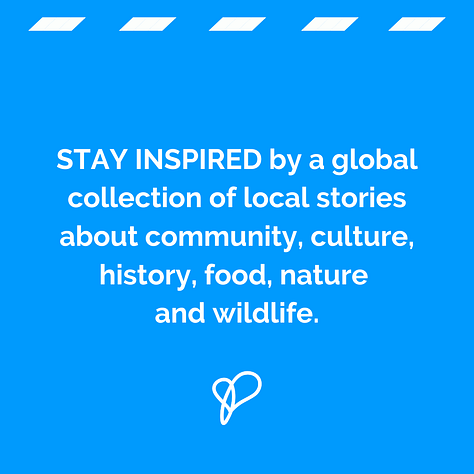 ---
Postcard Travel Club
Wake Up to LIFE!
---
Join the Club:
---